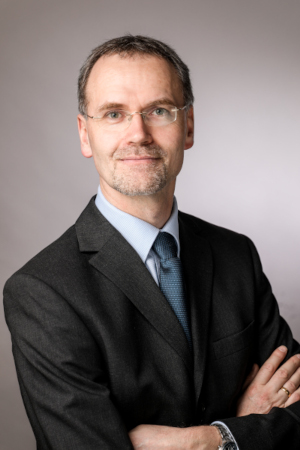 Job


Head of Offering, Catalogues & Inventory (IT): A1Telekom Austria
Lecturer: FH Technikum Vienna, FH Campus Vienna

Education


Dr. (=Ph.D.) in computer science
Vienna University of Technology

E-mail

Distributed systems
Software and system architectures
Software engineering
Dependability and security
Project management
The following is a list of selected publications. For the full list of publications, see here. Documents listed in this section are included by the contributing authors as a means to ensure timely dissemination of scholarly and technical work on a non-commercial basis. Copyright and all rights therein are maintained by the authors or by other copyright holders, notwithstanding that they have offered their works here electronically. It is understood that all persons copying this information will adhere to the terms and constraints invoked by each author's copyright. These works may not be reposted without the explicit permission of the copyright holder. IEEE, ACM, and Springer published documents have other restrictions given here for IEEE, here for ACM, and here for Springer.
Theses
Lorenz Froihofer,
"Middleware Support for Adaptive Dependability through Explicit Runtime Integrity Constraints,"
PhD Thesis, Vienna University of Technology, Distributed Systems Group, 2007.
Lorenz Froihofer,
"A Survey of WLAN Security with Focus on HotSpot and Enterprise Environments,"
Master's Thesis, Vienna University of Technology, Distributed Systems Group, 2004.
Organizational activities
Reviewer of journals and books
Program committee membership and reviewer for conferences
DADS'14: Dependable and Adaptive Distributed Systems (DADS) Track at the 29th ACM Symposium on Applied Computing (SAC 2014), Gyeongju, Korea, March 24–28, 2014, ACM.
MW4NG'13: 8th Workshop on Middleware for Next Generation Internet Computing at the ACM/IFIP/USENIX 14th International Middleware Conference 2013 (MW 2013), Beijing, China, Dec 9–13, 2012, ACM.
Below follow a list of current courses at different institutions. The full summary of teaching activities is also available.
University of Applied Sciences Technikum Vienna
Distributed Systems
Software Architectures and Middleware Technologies
Scientific Work
Databases
University of Applied Sciences Campus Vienna
Distributed Systems
Dependable Distributed Systems
Databases
| | |
| --- | --- |
| 2007 | Scholarship of the Faculty of Informatics |
| 2006 | Scholarship of the Faculty of Informatics |
| 2005 | Prize of the city of Vienna for excellent master's thesis |
The organisations in the following lists are as follows:
Current students
Completed theses
Thomas Obereder, TUV, 2012: Experimenteller Vergleich von Verlässlichkeits- und Skalierbarkeitsansätzen in Online-Auktionssystemen
Markus Friedl, UAS-CV, 2011: IT-Monitoring mit CEP-Engines
Xuejun Ji, TUV, 2011: MDA Support for Constraint Checking Framework in EJB
Markus Wilthaner, TUV, 2010: Dependable, Secure, and Cost-Efficient Online Auctions – Through Adaptive and Temporally Decoupled Systems
Andreas Redlein, TUV, 2010: Optimization of an Integrity Constraints Generator
Peter Sabaini, UAS-JO, 2009: Messagequeueing-Framework Based on a RESTful Approach
Emir Cajlakovic, UAS-CV, 2009: Zuverlässigere Online-Auktionen durch zeitliche Entkoppelung von Client und Server
Thomas Kreitner, UAS-CV, 2009: Caching Strategies for a High Performance Real Time Market Data Server
Georg Veit, UAS-CV, 2009: Echtzeit Push Server für Office Applikationen
Dominik Ramberger, UAS-CV, 2009: Integration von Coordinator-Cohort und Quorum-Consensus Replikation in ein Java Web Services Framework
Sunil Pilani, TUV, 2008: Smart Card-based Online-Auctioning
Gerhard Wagner, TUV, 2008: Evaluation of Smart Card Access for Web Applications
Birgit Wess, UAS-CV, 2008: Balancierung von Datenintegrität mit Verfügbarkeit in einer Web Service Umgebung
Michael Nedoma, UAS-CV, 2008: Experimentelle Analyse von PostgreSQL Datenbank-Replikationsframeworks
Dominik Ertl, TUV, 2007: Evaluation of Partitionable Replication Protocol Improvements in an Enterprise JavaBeans Environment
Ronald Klaudus, UAS-CV, 2007: Evaluierung von Web Service Message Replikation vs. Datenbankreplikation mit Microsoft Technologien
Markus Baumgartner, UAS-TV, 2007: Adaptive Constraint-Validierung in einer verteilten Enterprise JavaBeans Umgebung
Bernhard Rieder, UAS-TV, 2007: Balancierung von Integrität und Verfügbarkeit in verteilten Web-basierten Enterprise JavaBeans Anwendungen
Norbert Chlaupek, UAS-CV, 2007: Implementation and Evaluation of the Adaptive Voting Replication Protocol in a .NET Environment
Martin Schenkir, UAS-CV, 2007: Service Replication in Mobile Environments
Gerhard Glos, TUV, 2007: Performance and Usability Evaluation of Constraint Checking Approaches in Java
Markus Horehled, UAS-TV, 2006: Integration of an EJB Constraint Consistency Management Framework into the JBoss Application Server
Klaus Fuchshofer, UAS-TV, 2006: Negotiation and Reconciliation of Consistency Threats for Enterprise JavaBeans Applications – Adapting the dependability of distributed systems
Jörg Artaker, UAS-CV, 2006: Integration of a Constraint Checking Framework into the JBoss Application Server – With special Regard to the Trade-off between Availability and Consistency
Martin Hinterndorfer, UAS-CV, 2006: Middleware supported Negotiation and Reconciliation of Consistency Threats Based on Constraint Checking Framework in JBoss Application Server